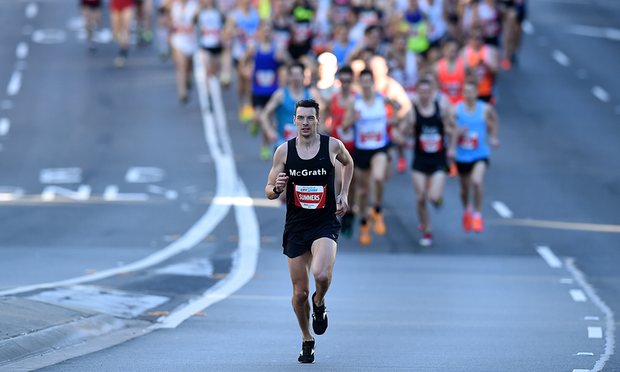 City2Surf 2016 was just last Sunday, the 14th. Another world's largest fun run event finished with me going back into the red group (!) and Harry Summers winning it after coming 2nd and 4th in the previous ones.
Due to various reasons I was not able to run at this great event in the past two years and lost my spot in the red group. This year I unbelievably caught Pneumonia exactly four weeks out to the race and am lucky I could recover in one week to finish it with a good margin better than 70 minutes or whatever cut off the organisers are going to set for qualification to be in the red group next year (they make it harder every year). Made it in 64:39.
In a free training group sponsored by Adidas this year I met Harry Summers who led our running group. He used to run in Vibram Five Fingers but the one I ran with this year was not. Very fast and strong; however to my criticizing mind his cadence was lower than mine and I know mine is well tuned to be 180+ which means he pushes off the ground. I even noticed he is not meticulous on how he lands, and I caught some proprioceptive heel striking at the three sessions we did together. Such things happen at top professional levels, and that is fine. They do anything to be fast, and as long as their super genes can recover the wears and tears in time they should be fine. What I always look up to these successful runners is how often they train, what they do at training, what they eat at every meal, and how they recover fast, but one thing I do not copy is the way they run because IT IS NOT UNIVERSAL. It only works for them and those who can handle it. Others are better to stick to safer techniques that work for everyone.
Back to me, first three times I ran City2Surf, which was from 2009, I made it in 64, 66, and 60 minutes and they were all in thick Adidas shoes with motion control made for rolling-out feet. Besides, I was not running in pose. Back in time I just trained regularly and pushed my hardest on the race day. I got myself up to 60 minutes but could not break it.
2009: https://secure.tiktok.biz/results/view/city2surf/2009/03594
2010: https://secure.tiktok.biz/results/view/city2surf/2010/03140
2011: https://secure.tiktok.biz/results/view/city2surf/2011/06708
It was August 2011 that I found out about Vibram Five Fingers and the idea of minimalism in running footwear's. This finding gave my running career a good boost. The first one I noticed was although I went through some painful muscle soreness (mainly calf muscles), none of those shinsplints and runner knees turned up any time I ran since then. It was amazing. My feet and ankle started getting stronger and by having a stronger hold to the ground I could push better and for longer time too. I ran from home to the office once a week in the morning for cumulatively 10 months and each run was between 25-33km (I made detours a few times). During this period of glory I ran two marathon races (42.2km) at Canberra in 03:27, and in Sydney in 03:11. I ran my personal best at City2Surf in 56:58 . I was all over the moon. It felt like being an invincible robot.
Quite pleased with achieving all the goals I had, I started feeling weak after the last race. Perhaps two marathons and a PB at a hilly race track in period of 6 months for a person with a full-time sedentary job was a bit too much. I fell into ITB syndrome followed by a benign Achilles tendinitis.
Having these injuries made me think that being [almost] barefoot would not make the mother nature take care of me! There were other things I needed to learn. In the hindsight I can tell the reason I had ITB syndrome was weakness in leg stabilisers perhaps due to some improper techniques plus muscular imbalance would contribute negatively to that, making me lean to one side more than the other when was fatigued during running workouts. My right leg was two or three times stronger than the left one back in time. The Achilles tendinitis was somehow related to this aforementioned imbalance and more importantly to over-training. The other thing I relate to this tendinitis was my running technique: I used my calf muscles mainly to push off the ground on top of absorbing the landing shock. I actively landed on the balls or even between the balls and toes thinking it would absorb the landing shock even better. Wrong intuition.
That was when I realised I seriously need to boost my knowledge about running and it was by the time I finished my degree to become a personal trainer. I came across Pose Running and attended a personal training session to learn it. The actual training did not strike me as a proper technique but the theory sounded right. So I kept practicing and studied the material by myself. Two books and a whole website to browse and a paid youtube channel to watch. In a year or so I got it right and changed my form to run in pose and have never looked back.
This year I ran the race in 64min and it was completely in pose. I had pneumonia before the race and I am 4 years older (am 39 now) than the time I ran my PB at City2Surf but I still made it around the time I was much younger and more active. All credit to pose running. It is easier, less prone to injury and highly efficient which means it takes less effort to run the same distance.
During the race I observed the muscles I used for going up hills and surprisingly I did not feel much pressure in my quads or calf muscles. I clearly remember I used to have pain (tolerable) at going up hills, even in my glory year of 2012. Why? because I pushed off the ground and I did not know of any alternative way of running.
Last thing before I finish this long post, and thanks if you have read it all the way to here, am no longer running my races in Vibram Five Fingers. I train a lot in them but racing is a different category to fitness. There are times during the race that we get puffed out and it would be hard to maintain a good form. A little cushioning in the shoes would give a bit of comfort. If I could train more hours I would run my races in VFF but having a busy life is a big obstacle. These days I run my races in NB Minimus which is still at the extreme of minimalism but is a little more comforting than VFF and can be forgiving if I carelessly land on my heels just because am knackered. Ignore what am saying if you are not a competition freak! Anyway, some might go for more supportive shoes but as far as they have to train in those shoes before the race it may cause trouble before being fruitful. I personally keep it minimal and that works for me. I still believe the strength developed in feet is gold compared to the support in shoes bought off the shelf that I rank as bronze ;)
Hope it was helpful. Good luck.